Fighters Compared – Top Gun:1940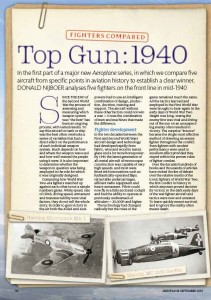 In the first part of a major new Aeroplane series, in which we compare five aircraft from specific points in aviation history to establish a clear winner,Donald Nijboer analyses five fighters on the front line in mid-1940..
Since the end of the Second World War the process of assessing and measuring which weapon system was "the best" has been an ongoing process, with varied results. To say this aircraft or tank or ship was the best often overlooks a series of variables that had a direct effect on the performance of each individual weapon system. Much depends on how and where the weapon was used and how well-trained the people using it were.