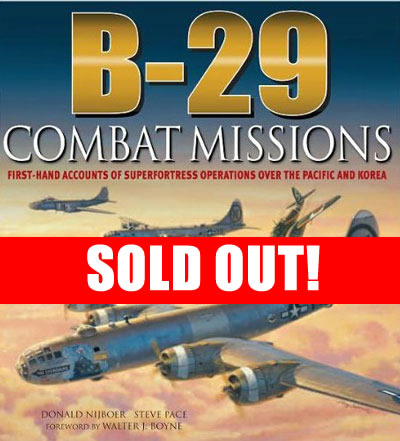 *SOLD OUT* B-29 Combat Missions takes the reader through every Superfortress crew position, bringing to life what it was like to fly and fight in the advanced bomber that was credited with bringing World War II to a conclusion earlier than predicted.
First-hand accounts from crewmembers are coupled with archive and commissioned photos of items of memorabilia, illustrating the dramatic stories of B-29 combat crews in truly vivid detail. Around 75 first-person accounts from Superfortress crewmembers. Each crew position has its own section, the aircraft commander and copilot, the bombardier, the navigator, the flight engineer, the radio operator, the Central Fire Control top, left, and right gunners, the radar operator and the tail gunner.
Some 160 archive images, around 45 crew-position photos specially commissioned for this book, and more than 100 artifacts illustrate the remarkable life of this unique aircraft.
Hardcover: 160 pages
Publisher: Metro Books (2011)
Language: English
ISBN-10: 1435125428
ISBN-13: 978-1435125421