My fourth Duel Series book, Spitfire V vs. Mc. 202, is at the printers and will be available in 2014.  The Spitfire Mk V and Italy's Macchi Mc 202 were probably the most evenly matched fighters of World War II.  In terms of  overall performance the Mc 202 had the edge.  But when it came to pilot training, aircraft production rates, serviceability, tactics and leadership, the RAF and the Spitfire V held the advantage.  Often maligned as incompetent and poorly equipped by the Allies, the Italian armed forces did in fact play a major role in the battle for control of North Africa and the Mediterranean.  It must be remembered that the majority of troops in Rommel's famed Africa Korps were Italian.
It was during the spring and summer of 1942 that the Spitfire Mk V and Mc 202 would mee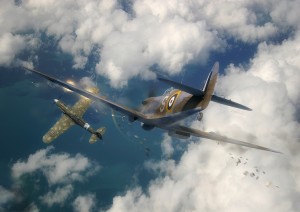 t in continuous combat over Malta.  This was the last chance for the Regia Aeronautica and Luftwaffe to neutralize Malta once and for all.  It was also the first time the famed Spitfire was used outside of the British Isles.
Gareth Hector's amazing illustrations shows Canadian ace George 'Buzz' Beurling attacking an Mc 202 on July 10, 1942.